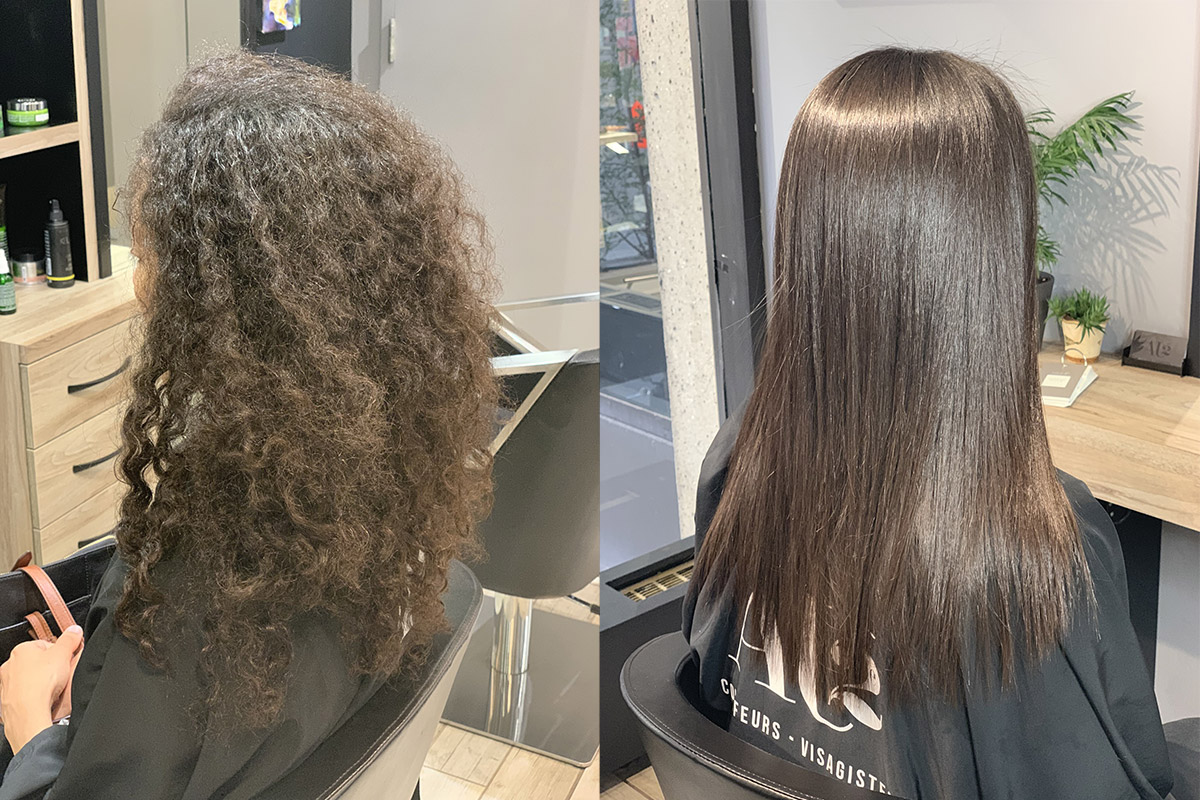 Maghrebian hair, if well cared for, has beautiful qualities. Often wavy, curly or even sometimes frizzy, you might still want to get a smooth hair everyday and easy to maintain.
Your hair can be a challenge, and using a heated appliance to straighten hair is time consuming and damaging.
Here are several types of straightenings for your North African hair done by our team to obtain a long-lasting straightening.
No more styling products and long hours in the bathroom. Thanks to these straightening techniques, you will enjoy effortlessly straightened, sheathed and shiny hair. The salon's team is expert with North African hair, having a long experience with this type of hair.
Smoothing Sinka Tokio Inkarami 
Sinka straightening and Tokio Inkarami care stand out with a formula that durably smoothes, repairs and provides resistance to the hair. Since its arrival at the salon, the results are brilliant and satisfaction is guaranteed. What is the added value of this straightening treatment for North African hair? Often dry and fragile, they will fully benefit from the advantages of this innovative technology.
The fullerene contained in the treatment allows the nourishing properties to blend completely with the hair fiber. Your hair will be more resistant and, above all, healthier. And there's no need to begrudge its aesthetic qualities, including shine, and practical qualities such as suppleness and hydration. With a range of specialized products developed by the brand for home care, it lasts from 6 to 8 months. The most rebellious hair just has to behave!
Tannin smoothing
Tannin smoothing is a smoothing technique often referred to as revolutionary. Many agree that it is an improved version of Brazilian smoothing. It is very effective and can be used to smooth all hair types. With this technique, your hairdresser is able to choose the degree of relaxation you want to give to your hair. Tannin smoothing is obtained by macerating the skins of grapes, chestnut and oak.
Smoothing will act on the hair fiber and allow it to relax the curl, rehydrate the hair while maintaining suppleness and volume. At home, without the action of heat, you will obtain a relaxed, moisturized and frizz-free curl. A wavy effect.
Under the action of heat, because it is a thermo-active straightener, you will easily obtain a smooth hair in a few minutes. The effect will last from 4 to 8 months. Tannin straightening is rapidly gaining popularity among people with North African hair because of its flexibility and naturalness.
Japanese smoothing
Japanese smoothing is a technique that is still very much appreciated by customers of North African origin. Indeed, this type of straightening makes it possible to obtain straight hair fairly quickly and is more similar to straightening. Indeed, Japanese straightening consists of alternating several steps.
First, your hairdresser will wash your hair to remove impurities. Then, he will apply to each of your strands a chemical product that is similar to a perming product, but with a higher concentration so that it can modify the structure of the hair.
This product requires a break of 20 minutes or more depending on the brand. After that, you will have to dry the hair and then straighten it with a straightener, strand by strand, to give it the desired shape. Finally, the Japanese straightening will continue with the application of a setting milk, then a final shampoo and finger drying. Japanese straightening is therefore a long process, but it will save time in everyday life and avoid damaging your hair with high heat appliances.
Nevertheless, Japanese straightening is a radical, aggressive straightening that won't leave you the possibility to go back. You'll lose your curly hair until it grows back for straight chopsticks. The maintenance of this type of straightening is very constraining, because the difference with the unsmoothed root appears easily.
With a Japanese straightening, you will have peace of mind for a period of 4 months. It is advisable to have some time in front of you as it can take a few hours to complete. A very interesting alternative, halfway between Japanese straightening and Brazilian straightening, is Korean (keratin) straightening, much softer, less chemically strong for the hair, giving a smooth appearance to your mane and a more natural result.
Brazilian smoothing
Brazilian straightening is also suitable for North African hair. It is a much sought-after treatment because it allows the hair to be sheathed and frizz-smoothed effectively while giving it a shiny and supple appearance. The Brazilian straightening is carried out thanks to a care enriched in keratin, a molecule naturally present in the hair and the nails.
More a care than a straightening, it is an excellent solution to provide nutrients, keratin and hydration for brittle and dry hair that creates frizz. However, it will not be effective if you want to reduce the volume of your hair or relax your curl.
The effect is too short-lived. Not to be confused with the old generation Brazilian straightening that stiffened the curl by giving smooth hair, but finer and oily hair due to the presence of formaldehyde, which is now banned.
The new Brazilian straightening (or treatment) can be compared to the botox hair care offered everywhere in terms of results and duration. There are alternatives with a better quality/price ratio.
There are therefore many straightening techniques perfectly adapted to North African hair. Although often rather expensive, we recommend that you practice them at a hairdresser and not with products at home. These could prove to be of poor quality and damage your hair. We therefore advise you to invest time and money in quality so that you can enjoy impeccable results for several months.
Guaranteed service 
A smoothing begins with the work done in the salon and continues with a home maintenance with the appropriate products. Our salon brands meet all quality criteria and perfectly complement the smoothing received in the salon. Moreover, the different ranges allow you to obtain products adapted to your hair type (dry, oily, etc.). They have been used by hundreds of clients on straightened hair since the opening of the salon and stand out for their performance.
This is why we guarantee straightening treatments when they are done at our salon and that the maintenance is done with the salon's recommended products. We offer you all the advice you need to use them properly. A consultation with one of our specialists is required in order to take care of your needs and desires, to take into account the health of your hair and to bring you peace of mind and the daily happiness of having the hair you want.
For an online consultation click here, or call 514 845-7676