One woman in two in the world colors her hair. Whether it's a matter of coquetry or a desire to change your look, colored hair is an unprecedented seductive asset. However, it requires care and a specific hair routine to stay healthy and shiny. Here's how much care you should be taking each month to keep your color-treated hair beautiful, strong and shiny.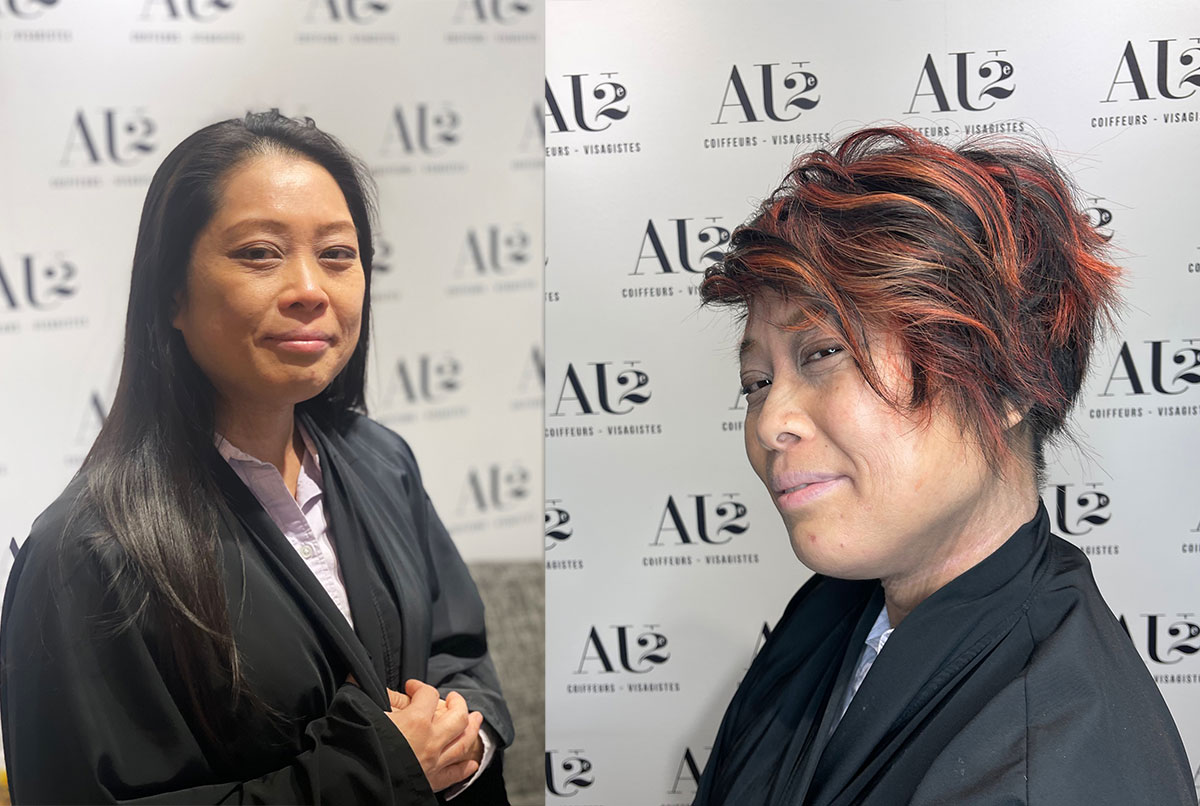 Colored hair needs special attention
During the coloring process, in order for the hair to be dyed, the scales are opened to hold the color. This process is due to the chemicals contained in the dyes. When coloring is repeated, the hair becomes fragile, the scales no longer close properly and the hair fiber becomes thinner, more damaged and breaks. To avoid having to cut your colored hair and having a "straw hair" effect, care must be applied with great care to your hair.
Set up a weekly hair routine
The hair routine is a beauty gesture that will allow you to keep your hair beautiful and your color shiny longer.
Pre-shampoo care
Once a week, take the time to apply a pre-shampoo treatment to your hair. Based on vegetable oils, this treatment will penetrate the hair fiber to nourish it in depth.
The oils to be privileged are :
Argan oil: it will strengthen, moisturize, reinforce the shine of your hair and it can calm an irritated scalp;
Castor oil: it is perfect for brittle and weakened hair. Moreover, it helps to fight against hair loss. Finally, it brings a lot of shine;
Sweet almond oil: it is known to moisturize, nourish and repair hair naturally.
Shampoo
Once or twice a week, it is necessary to wash your hair with a shampoo designed for colored hair. Ideally, you should use two shampoos. The first one, formulated with a neutral pH, allows to overcome the scalp of the deposits of limestone, dandruff and excess sebum. The second shampoo must be adapted to the nature of your hair or to your current problems: dry hair, dandruff, greasy roots… A shampoo formulated for colored hair is ideal. Leave the second shampoo on for 2 to 3 minutes for a deeper treatment.
Conditioner
Also called "rinse-off care", conditioner comes in various forms: conditioners, balms, hair masks…
It should be applied after each shampoo, on towel-dried hair, and left on for the time indicated on the product. Its objective is to have a detangling and moisturizing action to avoid breakage during detangling and protect the hair during drying. Fine hair can use a conditioner with a lighter, more fluid formula than a mask to avoid weighing down the hair.
Rinse-off conditioner should be applied to the lengths specifically so as not to overload the roots.
Additional treatments
Depending on your needs, other treatments can be included in your monthly hair routine.
Leave-in care
To be applied to towel-dried hair, leave-in care will reinforce the moisturizing action of the shampoo and previous treatments. It is the essential ally of healthy colored hair. Depending on the nature of your hair, leave-in care comes in different forms:
A smooth, nutrient-rich cream. The leave-in cream is perfect for dry, textured or thick hair. It should be applied to the lengths and ends;
A two-phase. Lighter than the cream, it is perfect for fine, short and/or oily hair.
Styling products
If you tend to use heated accessories to style your hair, you should always use a heat-protective treatment. The treatment will coat the hair fiber and protect the hair from dehydration and dryness. In addition, some treatments are formulated to protect the pigments in your hair color and prevent it from bleeding too quickly.
Repigmenting care
To avoid having to redo your coloring too often, you can add repigmenting treatments to your hair routine. These shampoos and conditioners will make up for the pigment deficit caused by washing the hair. They revive the shine of the color and slow down the root effect.
When should I redo my hair color?
In general, and depending on the amount of white hair you have, it is recommended that you recolor your hair every 4 to 6 weeks. After this time, colored hair has lost its shine. In addition, regrowth at the roots may reveal some white streaks or a difference in tone with your natural color.
In order to benefit from expert care, it is advisable to have your hair colored by a professional hairdresser in your Au 2e salon. Our team will be able to advise you on the best way to care for your hair and on the color to adopt according to your skin tone.