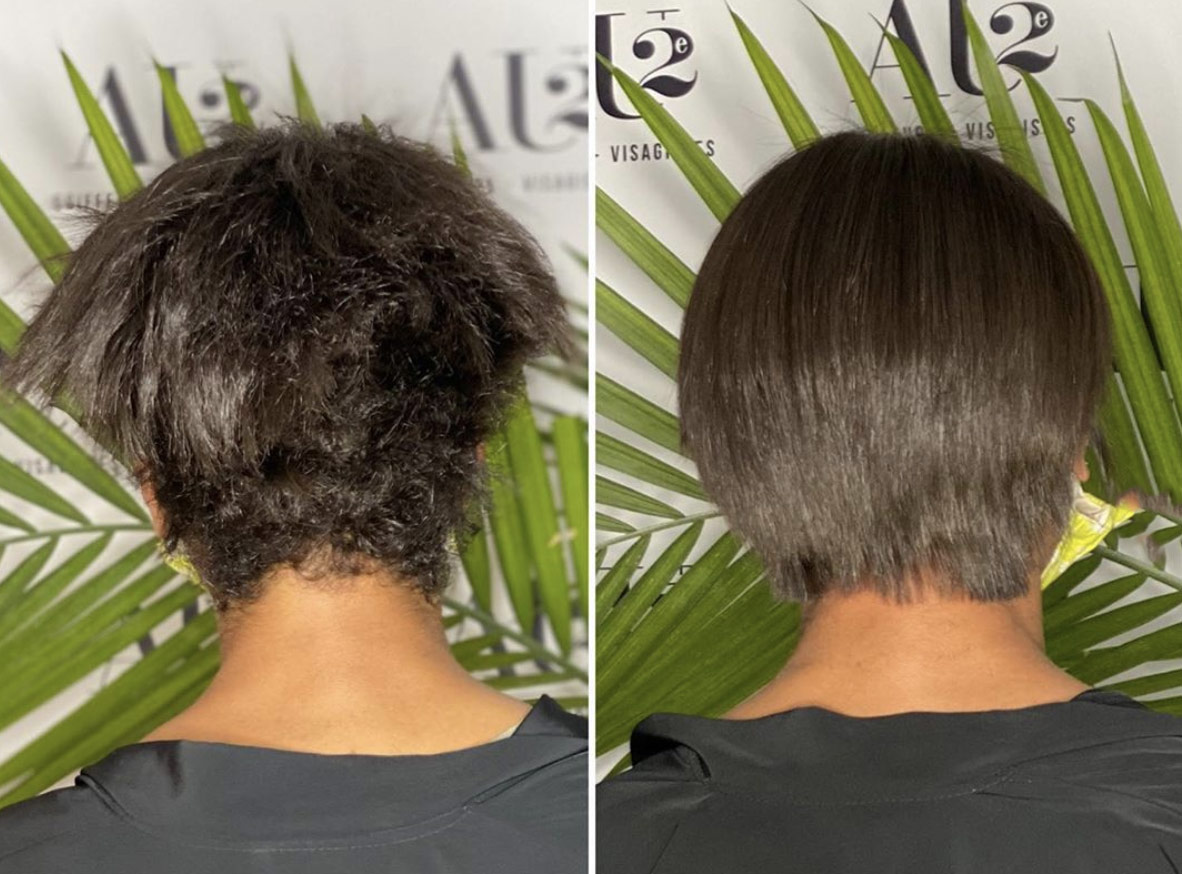 For several years now, a new smoothing system has been imposed in the best hairdressing salons in the big trendy cities: the SINKA straightening system and its INKARAMI technology.
Also known simply as Japanese straightening, as opposed to Brazilian straightening, Sinka straightening is known for its ability to durably smooth hair while repairing it. By all accounts, with this smoothing you can say goodbye to your good old hair straightener, but is it really true?
How does Sinka smoothing work?
While the process may seem like a lengthy 3 to 4 hour process, not to mention quite expensive, it is because it involves many important steps to repair and protect your hair.
The six steps are as follows:
Wash with a PH neutral shampoo.
Soften hair with a reducing product.
Moisturize the hair with a specific treatment
Smooth hair with a comb, rinse and dry.
Smooth with hot plates
Fix hair with hairspray before rinsing and styling
Hidden in these steps we find the secret of the success of this method: fullerenes. These molecules have an extreme anti-oxidant power and, when applied to your hair, they prevent the cuticles from expanding. This protects your hair from external aggressions, especially from the sun's UV rays.
Results according to your hair type
As you know, some hair types are harder to straighten, especially curly and frizzy hair. The great advantage of Sinka Straightening is that it smoothes even the most curly hair.
The hair type must therefore be taken into account. Another question you often ask yourself is that of coloring. You may not know it, but usually you don't want to straighten hair after applying haircolor. Sinka straightening does just that. Better yet, thanks to its regenerative capacity, this straightening is precisely adapted to post-color care, because it repairs the damage caused by coloring agents.
As for the duration of the result, this depends on only one factor: the growth of your hair. Where Brazilian straightening tends to lose its effectiveness (shine and ease of brushing) after a month and a half or two months, Japanese straightening is permanent.
Hair straightened with this method remains smooth, the result will accompany you for months and months… until the new roots become too obvious. Remember that these new roots are your natural, unsmoothed hair. Depending on the cut you wear, you may need to use new treatments after four or five months.
Positive opinions and adaptation to fashion
By looking for reviews all over the internet, you will mostly find positive feedback. Permanent straightening and hair repair convinces everyone.
Moreover, you may have noticed that some new Quebec hair styles are particularly aimed at straight hair, especially styles with side parting and those containing accessories.
You'll be able to use the hours you spend in the salon to try a trendy cut with straight hair, or to wear chains or pearls without them disappearing under your curls. And if you go bi-color, Sinka Straightening is the perfect treatment to repair the damage left by coloring agents.