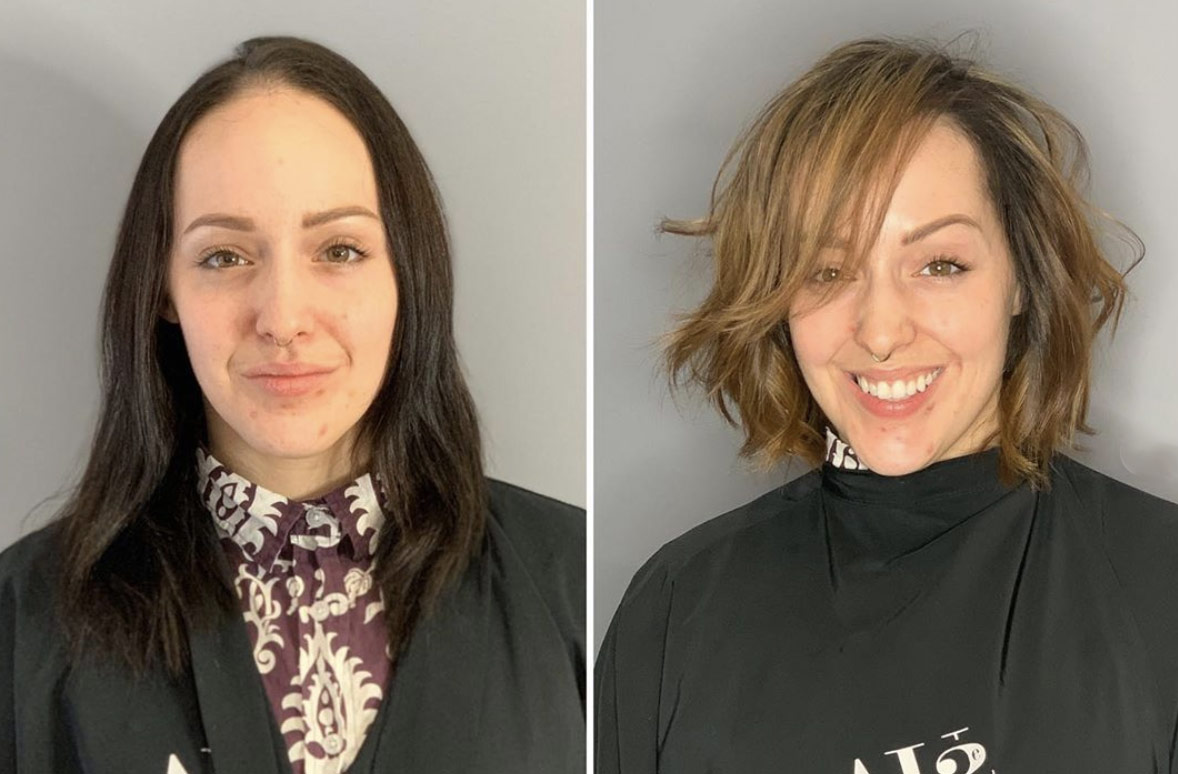 In a woman's life, hair loss is a delicate, sometimes difficult and stressful time. The origin of this kind of problem is linked to the anagen phase of the hair follicles. Hair growth becomes thinner and shorter.
As a result, the hair becomes sparse. Are you prone to this hair problem? Are you anxious that it could affect your image? Do not panic! All it takes is a few scissors strokes to sublimate your appearance and camouflage your thinning hair. Here's an overview of the hot cuts.
The asymmetrical cut, to bring your hairstyle back to life
The asymmetrical is today a style of hairstyle that is popular with fashion fans. It's the best way to give a boost and freshness to dull, monotonous hair. From a more pronounced shape to a simple partial cut, it can be done in a wide variety of styles. That said, the asymmetrical cut is an ally for all types of faces.
If you have thinning long hair, the best way to camouflage your androgenetic alopecia is to adopt the light asymmetrical square. This will give a more voluminous character to your mane while making the parts affected by the hair problem invisible. On the other hand, on short hair, it is better to play contrasts with the ball square, but keeping more length on the front of the head. For this, a fringe swept to the side will be ideal.
The shaded bob, an irresistible trend
The refinement of the hair follicles of the scalp most often results in a lack of density. Thus, the hairstyle leaves a finer, flattened and dry look. To blur this lack of volume, use a gradient. Although light tapering is often recommended, it should be avoided. Here, the goal is not to add relief, but to obtain more thickness. The gradient can be realized under different aspects, but it is preferable to adopt the "shag".
This swag tendency breaks codes and sets its own rules. Juggling between curls, relaxation and consistency, shag can be worn in long or short versions depending on your mane. All you need is the fringe and soft waves to create a sensation. The shag gradient also adapts to all face shapes.
With this trend, you can also free yourself from all styling constraints. Simply run your fingers between your strands to restore tone to your curls. You can also add spray, but just a light puff will do.
The plunging square, the perfect blur
To look for density and to hide the most sparse areas, the plunging square ensures perfect blurring. It will give an impression of lightness with a thicker effect. It is also possible to combine it with a longer wick on the front of your head. This will help camouflage your hair's widening parting.
Otherwise, why not get caught up in Pixie fashion? It aims to eliminate the flattened effect by creating a wave-like movement with an imposing fringe on the forehead. The center parting will be offset to one side for more dynamism.
Note that if you suffer from female pattern baldness, it is better to refrain from intensive styling. The same goes for the use of waxes, styling gels and even less ointments, as the result will still be stringy. Smoothing with an iron is also to be avoided. It is better to bet on the natural with a slightly battered or crumpled rendering, which we can achieve for you at 2E!