Did you have problems with hair loss or hair growth? Are you looking for a hair care product with proven effectiveness and immediate action?
Tokio Inkarami is the miracle hair care range you need. Discover in this article, 5 benefits of the Tokio Inkarami brand for your hair.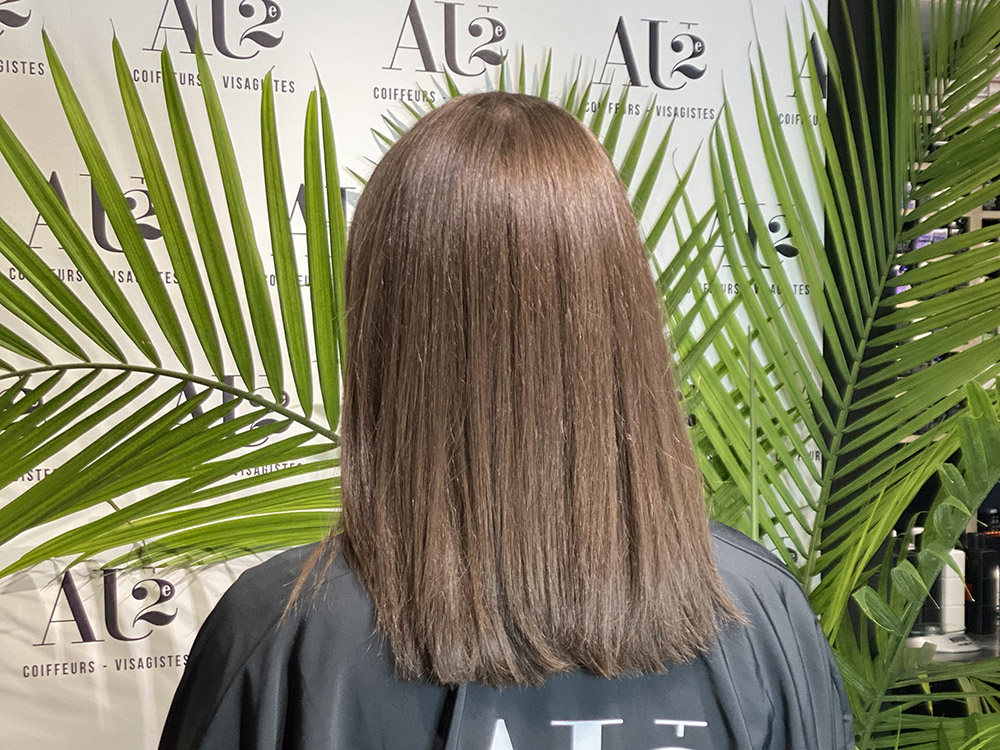 The Tokio Inkarami treatment
Of Japanese origin, Tokio Inkarami is a professional range that repairs, enriches and regenerates your hair.
It is a treatment designed with 6 varieties of keratins, amino acids, several plant extracts and fullerene known for its performance of penetration without heat. Its formula is also composed of amino acids taken from waterfowl feathers and keratin, limnanthes, hydrolyzed keratins, 18MEA fatty acid and ceramide.
Tokio Inkarami is mixed use and adapted to all hair types. It has the capacity to make them 140 % more resistant. Its repairing effect is especially reflected on very damaged hair.
With Tokio Inkarami, you will receive a magic trick in only one treatment session at Au2e.
This treatment gives you a long-lasting repairing effect of up to 2 months. It reinforces the shine of your hair after a combing and can also be applied after a tint to strengthen its hold. It corrects the damage caused by relaxers on your hair.
In addition, note that the prowess of the care is due on the one hand to the limnanthes and on the other hand to the fullerene. Limnanthes is a plant whose seeds contain an oil enriched with more than 92% fatty acids and unique properties. One of these roles is to sheath your hair over a long period of time. As for fullerene, it is a molecule that has made a name for itself thanks to its ultra-penetrating power.
For a professional result, you must perform this treatment in our salon. We will follow 5 precise steps for a total metamorphosis of your hair. Indeed Tokio Inkarami has for each layer of your hair, a suitable treatment.
Each product penetrates deeply without straightening and plays a long term role on your hair fiber. Tokio Inkarami gives your hair softness, suppleness and shine. It is a nourishing treatment for your hair from its roots to its ends. It transforms them into hair that is easy to style.
The 5 benefits of Tokio Inkarami for your hair
The Tokio Inkarami treatment, thanks to the keratins and amino acids of bird feathers, moisturizes and solidifies your hair.
The cream composed of limnanthes, fullerene and keratin amino acids is the basis of this range. It repairs your hair right down to the roots and supports its hydration. Being the magic portion, you should stay under a steam helmet for 20 minutes after its application.
The hydrolyzed keratins obtained from hybrid polymer, sheep's wool and fullerene smooth your hair while putting each hair back in order. The result of the smoothing by this component of the care is visible after 10 minutes. This is followed by 18 MEA fatty acids and ceramide, which give your hair shine, protection and long-term hydration. To finish, the Tokio Inkarami hair care spray, based on active agents, closes the epidermis of your hair and ensures its protection.
This outstanding hair care line stands out from other hair care lines due to its unique formula which is the result of high technology. You can apply it on devitalized, dry, brittle, frizzy and curly hair. This treatment is suitable for everyone. It does not damage perfectly healthy hair in any way, as it is in itself a perfect fusion of active ingredients.
It is not easy to find such an effective treatment on the hair market. Tokio Inkarami is unique and works miracles on your hair. Take advantage of these benefits by opting for this professional hair care in our hair salon in downtown Montreal.