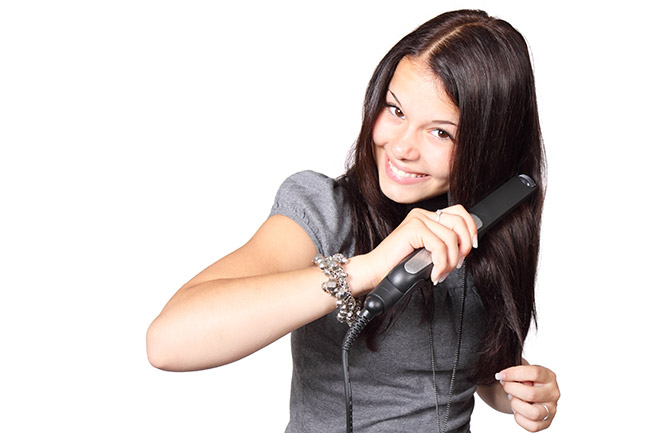 In this article, we will talk about Brazilian hair straightening. How much does it cost and is it risky? We will answer all your questions below!
What is Brazilian hair straightening?
Contrary to what its name indicates, it is not a proper smoothing, but a care: It does not only feed the hair deeply, but it redefines the curls and removes frizz. How is it possible ?
It's about making a mask with keratin on your hair. This is applied by wick with a brush, then is activated by heat with smoothing plates. The break time of the product is between 15 and 25 minutes for optimum effect. In this way, the keratin penetrates deep into your hair: it feeds them, sheaths and gives them a shiny side. The care will provide flexibility, redefinition, and nutrition without frizz or weigh down the hair.
Who is the Brazilian hair straightening for?
Almost all women and men will benefit from this care because it improves overall hair quality.
Here are the main advantages of Brazilian hair straightening:
It facilitates blow drying (setting). The hair takes the desired shape. This reduces the temperature of the hair dryer and the duration of blow drying: it is a good technique to save time when preparing in the morning and to avoid continually attacking his hair. It nourishes dry, porous and rough hair. This is especially true for hair that is regularly tested by coloring, discoloration or styling.
With this feature, the Brazilian hair straightening also helps to keep pretty curls when you have a hair that borders easily. Its only downside: for fine hair, Brazilian hair straightening may weigh down the hair and the plate losing its full volume. If you are in this case, it may be interesting to ask us for advice.
We have solutions for your hair type.
How much does a Brazilian hair straightening cost?
This operation is offered from $ 250, depending mainly on the length of your hair. Léo, a master barber, is a leading expert in the field of smoothing and will offer you the best advice in full transparency. Do not hesitate to ask us questions! We are experts in all types of smoothing.
How long is a Brazilian hair straightening?
It all depends on the texture of your hair, the speed of growth and the frequency of washing. For "normal" hair, count about 4 months of effects. After this time, frizz will reappear gradually. For flexible hair, this duration can go up to 6 months.
What are the risks of Brazilian hair straightening?
The main risks were related to the presence of formaldehyde which made it possible to stiffen and flatten the hair. We were talking about smoothing. After health scandals in several countries, including Canada, France, and the United States, linked to the presence of formaldehyde in smoothing products, some countries have adopted regulations limiting the concentration of formalin.
Canada imposes a maximum threshold in the products used. What we respect meticulously since none of our products contain formalin! Learn more about Brazilian Smoothing and all the types of smoothing that can be done with professionals at Salon 2e.
Contact us to receive professional advice in smoothing.