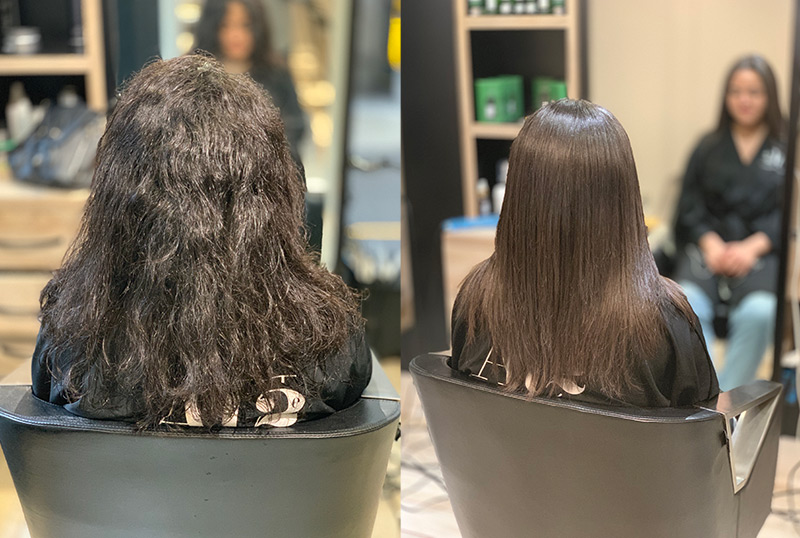 Your hair is burned out? They are tired of being damaged, dried up and attacked by unsuitable chemicals or shampoos? You aspire more than anything, to the idea of having smooth, shiny hair easy to maintain and impeccable after just two small combs? You dreamed about it, the smoothing enzyme therapy did it. But what is this magical and revolutionary process and is it suitable for all types of hair?
What is enzyme therapy smoothing?
This is a new, latest generation tannin-based organic smoothing method to which fruit enzymes have been added. She has widely found her audience in European hair salons in recent years. Made of natural particles, this ingenious technique smoothes and heals tired hair. It brings suppleness, shines and shines to dull manes without greasing the roots.
The benefits of this method are no longer to prove:
Saving styling time
Ears and torn rebels
Natural and radiant appearance in everyday life
It's like going out of a hair salon every morning. After this treatment, your hair will be silky and smooth and you will not need your hotplates, only the hairdryer. Because like smoothing with tannin, the smoothing enzyme therapy reacts to the heat. This is a reversible smoothing: if you let it dry naturally, you will get relaxed curls, no frizz and hydrated. If you want to wear your hair smooth, just dry them with the hairdryer and place them on the fingers.
Enzyme smoothing, an innovative and natural technique
This natural smoothing with tannin is a real therapy for the hair. Without formalin, glyoxylic acid or derivatives, it does not modify the internal structure of the hair. Its composition reassures users because the product can not cause undesirable effects on the hair or scalp. It is enriched with enzymes (natural catalysts of fruit extracts) sheath and strengthens the hair without refining the texture, unlike Brazilian smoothing. It is a product obtained from the maceration of the skin of grapes, oak, and chestnut (which have anti-inflammatory and healing properties).
Enzyme smoothing, for whom?
This new technique of smoothing is suitable for all types of hair whatever your ethnic-capillary profiles (Caucasian, Asian, African). Curly, wavy, dry, stiff, thick, frizzy, porous or rebellious, your unruly hair will no longer be the law.
Are you pregnant?
Indulge yourself, this smoothing technique contains no hazardous products (0% formaldehyde or derivatives).
Damaged hair
Smoothing also repairs damaged and dried hair thanks to tannin coupled with enzymes. It reinforces the asperities present in the hair caused by chemical, mechanical or thermal aggressions.
Colored or highlighted hair
Not only smoothing is perfectly compatible with a dye or wicks but it is also possible and recommended to do your coloring or your technical service the same day where you benefit from this formula to obtain the perfect shade.
Lifetime and maintenance of smoothing
The smoothing lasts between 4 to 6 months, or more, depending on the maintenance that you will bring to your hair. If you want to keep as much as possible the miraculous effects of this smoothing, some tips are to follow:
It is necessary to use a range of shampoos and soft care for the hair, without parabens and sulfates. The So Pure range of Keune, available at the show, fully meets the needs of hair having been smoothed enzyme therapy.
Use thermal protection with any heat source (hairdryer).
Nourish and repair the hair with moisturizing and protein care once a week.
So, will you succumb to smoothing enzyme therapy?